I have just come back from Marrakech, a city that exists and functions as a result of the water channelled from the Atlas mountains. As any short break should do, I have come back refreshed and intrigued by the architecture, the culture and the contrasts of that city. Back home things couldn't be more contrasting, a lush landscape in the full throws of spring, where we tend not to think much about water in our daily lives, where we can be free to play with it in our gardens and even waste it.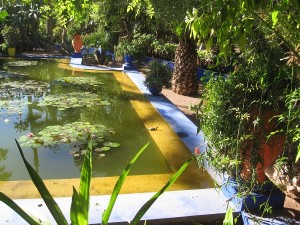 Water in hot countries is used in gardens for its cooling effect, for example in Marrakech the 'riad' courtyards are open to the sky with a simple pool of water at their centre, this creates an upward draught of cool air. Here in our gardens water is not usually taken very seriously however it can be a fantastic addition to the garden attracting insects, birds, amphibians (snakes!) as well as being attractive, creating dancing patterns of light, possibly introducing sound and supporting a range of interesting aquatic plants. The bigger the water feature, the bigger the benefit!(http://www.wildgardens.co.uk/?p=2535).
In my garden, the pond is the main focal point, at coffee time, I often sit outside my office next to the pond, and marvel at the life it supports, it is a haven for newts, they are a joy to behold, gracefully gliding through the water and the more I look, the more diverse life forms reveal themselves – last week we discovered that great crested newts have adopted our pond, a large, majestic but rather shy beauty!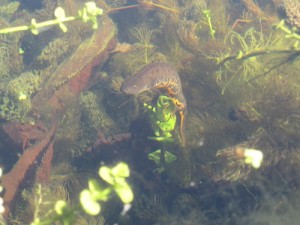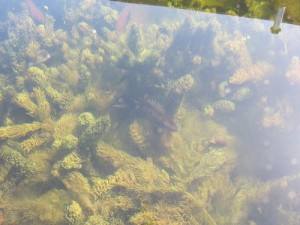 The pond in our garden is about ten years old, approximately three metres square and 0.7 metres deep, the base is deeply covered with oxygenating weed (therefore offering different niches, oxygen, shade, shelter, breeding sites…). It has been fish free for about 6 years and it has gradually become inhabited by newts. Last year we had breeding grass snakes in the garden and feared for the future of our newts but happily they are still doing well.

Landscape architect, Kim Wilkie, has a great approach to using water in his projects, in his words "I try to understand the memories and associations embedded in a place and the natural flows of people, land, water and climate" (www.kimwilkie.com).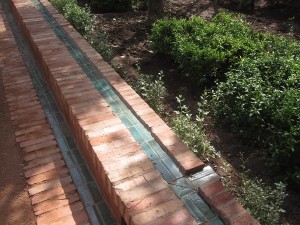 Rain garden feature – Cyber park – Marrakech