Having been brought up in a very rural setting,  I chose a career in horticulture however sculptural work using natural materials has become a very important part of my life over the last 15 years.  I use willow as well as other natural materials such as hazel, bramble, wild clematis, iris leaves, New Zealand flax, dogwoods, etc…  More recently I have begun to explore the use of natural material with ceramics.  My parents were ceramicists (my mother still is) so it is interesting to me that I have come full circle and now include their medium in my work.
Sales:
You can see some of my work at AceArts, Market Place, Somerton TA11 7NB (closed Mondays & Sundays) where I have ceramics, leaf forms and willow fish on show.
Alternatively direct enquires can be made about work featured below.
Upcoming events:
Somerset Arts Weeks at Pilton Cider in Shepton Mallet –  21st September – 6 October 2019
I will be exhibiting a piece at the Bishops Palace in Wells for the "Re-Formation" exhibition which is run in collaboration with Heritage Courtyard Gallery, Wells  – July, August & September.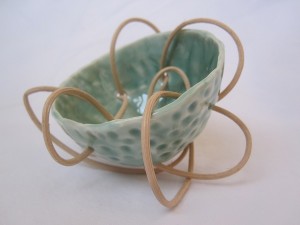 Media:
In 2007, BBC South Today celebrated 'Made in England',  interviewing local makers, this is me being interviewed in the ancient woodland I used to own and look after.     http://bit.ly/zkuoft
In 2012 I was commissioned to create a 12 metre willow dragon in the grounds of the Bishops Palace, Wells.  This is a short interview about it.    https://www.youtube.com/watch?v=h8txATHvmNo