I am hunkering down to a lot of weaving using locally and sustainably harvested materials for my exhibition which is only 8 weeks away.    There will be workshops (see my workshop page) and there will be wow factor!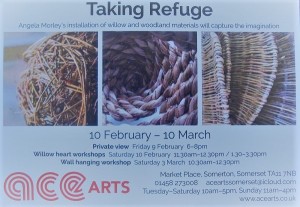 In this exhibition I will be transforming the exhibition space at ACEarts with bold use of willow and woodland materials; expect an installation that will capture your imagination.
The exhibition will create a refuge for the viewer, to contemplate the works' subtle colours and textures whilst also reflecting on mankind's ultimate dependence on the plant world for food, shelter and psychological well being. The exhibition will be a refuge from the cold weather outdoors, offering time for quiet contemplation on the healing power of nature and that of our gardens.