'Taking Refuge'
10 February – 10 March
ACE Arts Gallery, Market Place, Somerton, TA11 7NB
MAJOR EXHIBITION FOR LOCAL ARTIST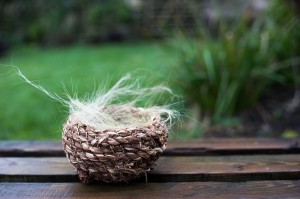 Angela Morley is an artist and garden designer from Shepton Mallet. Born in the south of England she moved at the age of 10 with her family to France. Angela, from a Hertfordshire village, was homesick for England but fell in love with the French countryside where she found solace and safety. The title of her upcoming exhibition – 'Taking Refuge' – references these feelings, as does the idea of 'home', which is also of prime importance to her.
Angela studied Horticulture at the University of Bath, laying the framework for her work as a garden designer. While living in Hampshire she invested in ten acres of ancient coppiced woodland and began a lifelong fascination with woodland ecosystems and plants. She learned how to handle a chainsaw and spot butterfly orchids, and the experience informed her development as an artist working with natural materials.
Now living in Shepton Mallet, Angela continues to work with the products of woodland and hedgerow, weaving willow, bramble and bamboo into cocoons and nests and cradle-like sculptures embellished with feathers and grasses and found natural objects. Her studio is like a shoreline after a storm, with a tangle of stems and tendrils, thistles and feathers, and lengths of willow and hazel.
Her solo exhibition 'Taking Refuge' at ACE Arts in Somerton, 10 February – 10 March, showcases her sculptural work. The gallery, in the old Town Hall, is spacious, which gives her the opportunity to exhibit some larger pieces of work. She is showing five large woven sculptures which can be sited outside as focal points as well as lots of smaller sized pieces on a domestic scale. Children love the large sculptures and adore hiding in them and as they are on metal frames they can be added to by their owners. Taking place in the cold month of February, 'Taking Refuge' also embodies the idea of taking shelter from the unruly weather, and of safeguarding precious memories.
Angela says: "For me this exhibition is about showing people the close-up details of the wonders of nature. I've used lots of different materials such as fine grass heads and downy thistles, lots of different textures and buds and even peacock feathers. All my work is about opening people's eyes to the beauty of nature and I hope that if people can see how beautiful it is they will be able to respect it more."