Earlier in the year I was invited to run five workshops in a small wood near Langport. These workshops took place through November and into December, the weather was mostly kind and we had a fire to work around and to cook lunch over.
I worked with a group of about 10 people, and the aims were:
To increase self confidence and motivation
Explore individual creative potential
To explore and use materials from the wood
To create a sense of belonging in the group
In the first week, I taught string making using Phormium fibres, then I introduced the concept of 'Walking bundle's' before moving onto basic weaving techniques with the view to creating sculptures (or masks) of woodland creatures. An exhibition at Ace Arts, Somerton will showcase all the work 11-18 January 2020.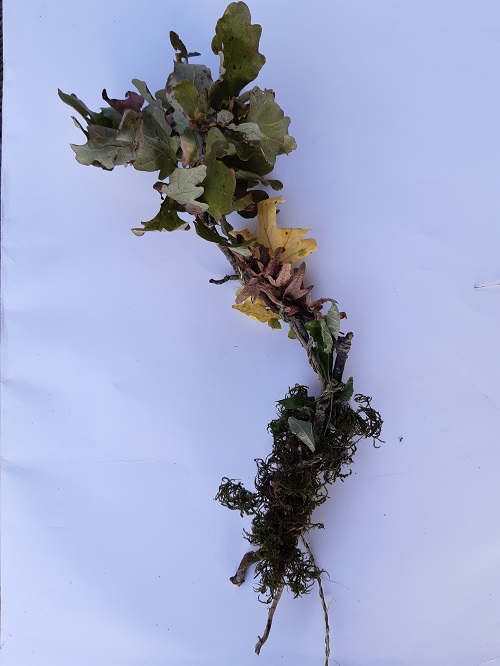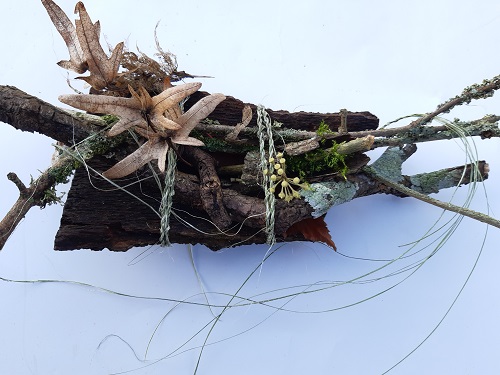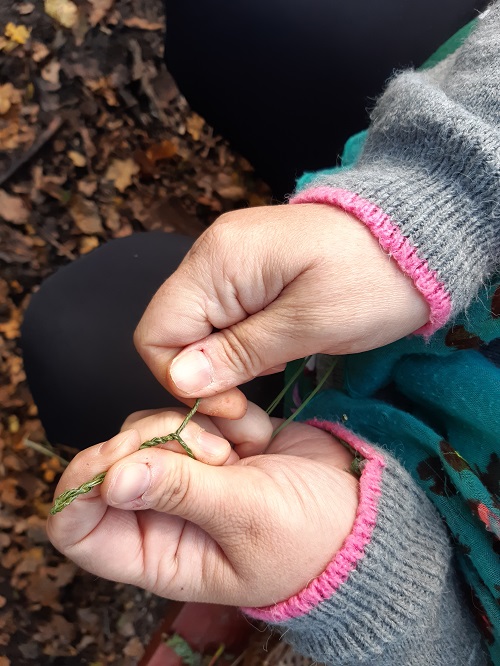 Walking bundles – In this project these are woodland objects collected on a short walk – they tell something of the landscape, the length of the walk and the season. They are an exercise in observation and being in the moment, responding to the surroundings.
More generally, walking bundles can be playful or have purpose, for example a collection of herbs for the pot, medicinal foods, be purely aesthetic or they may be a form of litter collecting… The bundles for this exhibition were made in both weeks 1 and 3, their character will change as they dry however they will continue to reveal a lot about the woodland species, the season… (For more information see work by James Aldridge.)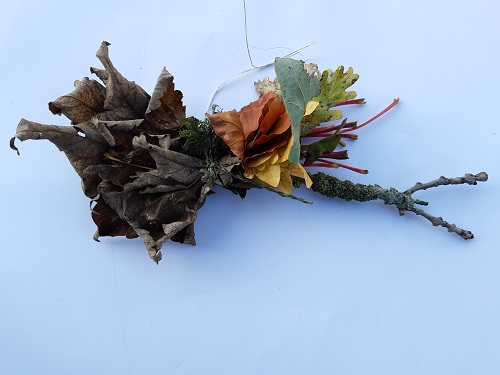 During week three, the magic happened… participants started to get very experimental, incorporating leaves, moss, branches… into their sculptures, this was the breakthrough I was waiting for; a sign of gained confidence and an embracing of the woodland. Participants were focusing on their own work, heads down but also chatting and sharing stories with others.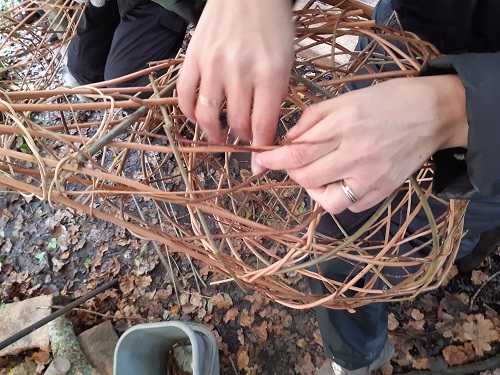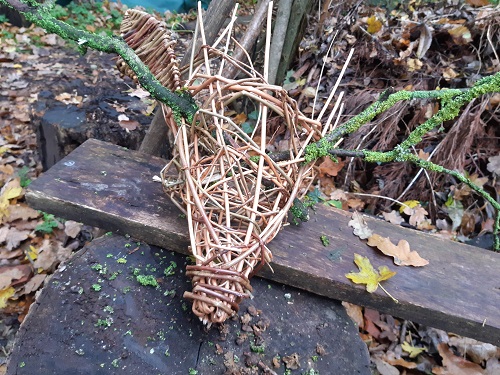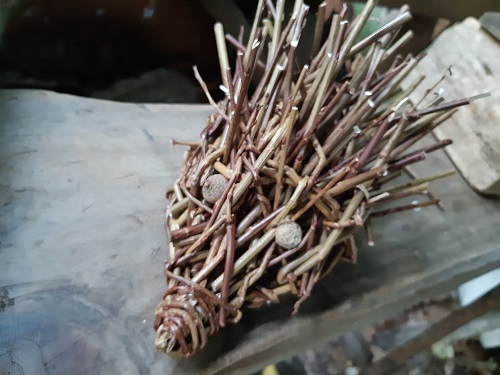 The fire remained a focal point for the workshops, providing warmth, hot water and lunch for which we each brought a vegetable for the pot. Weeks 3-5, Ian, chef extraordinaire joined us, cooking up vegetarian curry (including chipatis), tagine and chili. The start and end of each day took place around the fire too when we each shared how we felt and what we had liked most from the day.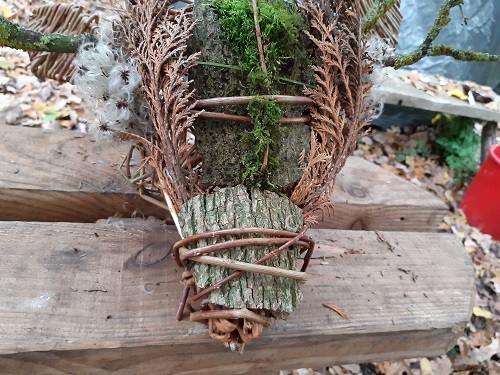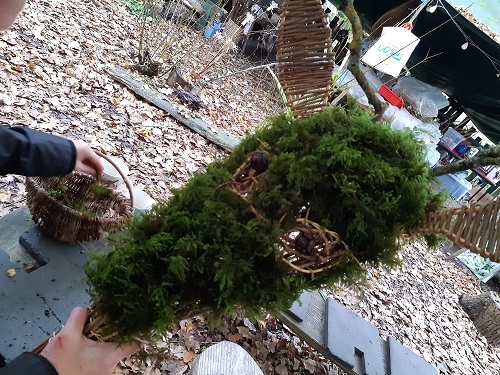 This was a true time of 'well being' with amazing sculptural pieces to show for it. Here are some beautiful snippets of feedback from the participants:
"It has been uplifting to play in the woods and create fun art from nature… so good for the soul. A feeling of community"
"Thursday has become my favourite day of the week. Exploring the woods and what nature provides within the woods has been inspiring and incredibly uplifting. My imagination has been running wild with creativity…"
"I have enjoyed studying arts and crafts in the natural environment with a small group of all like minded individuals…"
"It has been a very rewarding time working in the woods. I have learnt many things, working in a group supporting each other… I have gained confidence working in a group and have adored being outside and especially the fires"
"Although I am already working in the woods and reaping the benefits of the setting on my mental health, it has been really inspiring and confidence building to take part in the art projects…"
"Being in the woods has been a truly earthly and unearthly experience. Being so grounded to the natural environment, the wood that grows, the wood that burns and cooks, the wood that smokes, the wood that creates!! Meeting other creative people, laughing and crying over life and art. A creative spark has been ignited and I won't let the embers smolder into nothing"
"Time flies when you are in the woods, totally being in the present learning new skills using materials from the environment you are in…."
"Being here has reminded me how much I miss being out in nature. I've loved having the time to slow down and really focus on something creative, to enjoy just 'being'. It has rekindled my love of nature so much that I'm now volunteering as the forest school. My emotional resilience has definitely improved"
"… the artists inspired me whilst leaving room for my own creativity"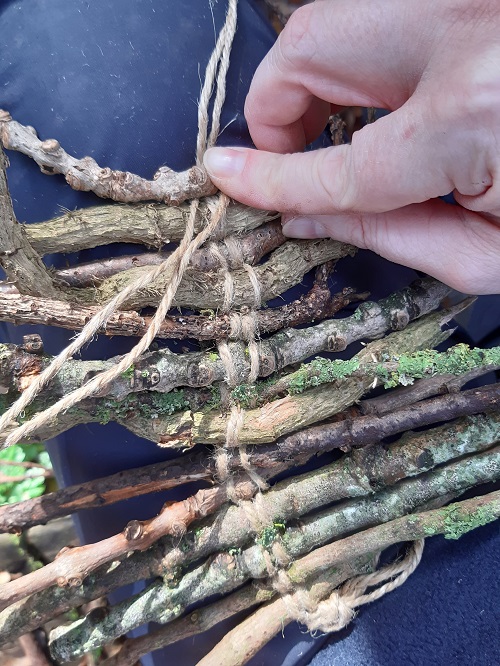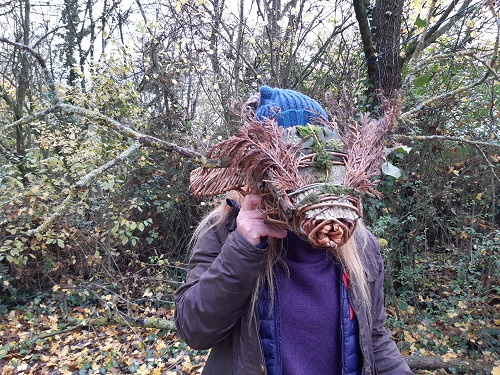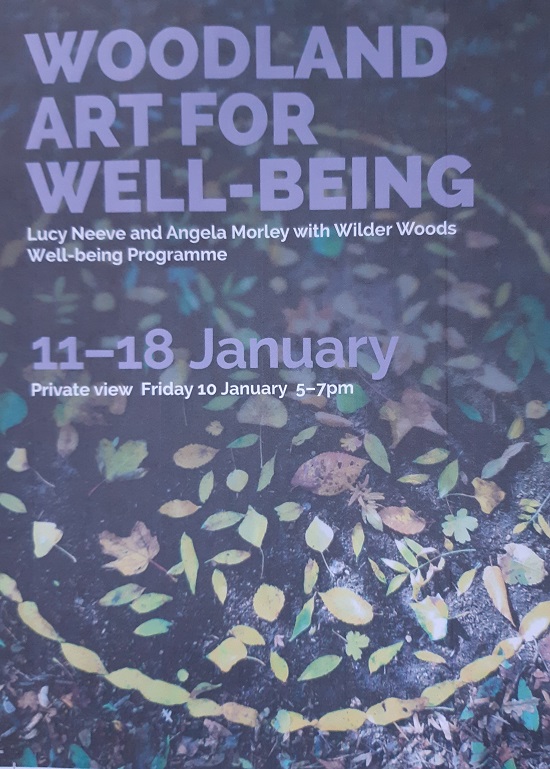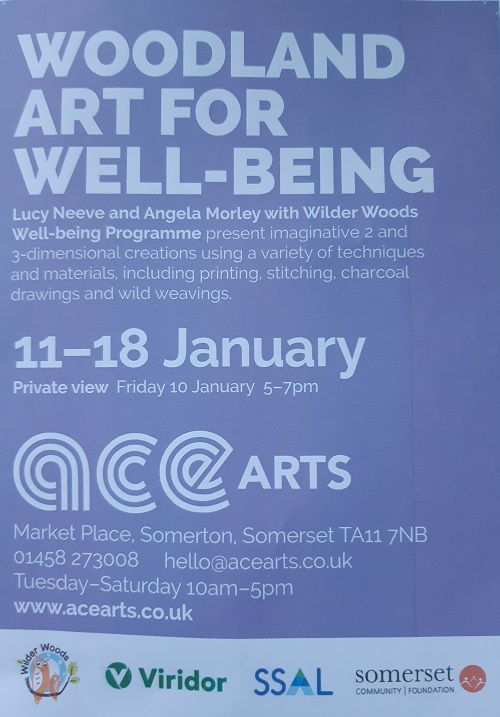 My thanks to ACE Arts Somerton for organising this project which has been funded by Somerset Skills & Learning. My thanks to Hannah Aitken for her hospitality and the use of her woodland.