Sculpture in the garden can act either as a focal point or as an element of surprise enlivening an otherwise dull area of wall or a dark shady corner.  Right now during Somerset Arts Weeks you will be able to see many different forms of sculpture: bronze, stone, steel, wood, ceramic and willow…  My medium is willow and other natural materials (silver birch, leaves, field maple, dogwood…), woven into simple forms highlighting the colours and textures of the materials.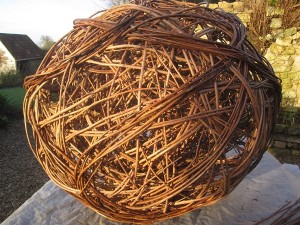 Willow is an amazing material, exploited for its pliable stems and ability to regenerate after cutting.   It has been used for thousands of years woven into functional objects such as baskets, fish traps, fences, tracks for roads over boggy ground… It is a truly sustainable material and traditionally most small holdings would have had their own stand of willow for ongoing repair and making of new structures.
My willow sculptures not only do they slowly return to nature in the garden but often birds nest in them during this process.  I harvest my materials in the winter from the garden, local hedgerows and withy beds on a completely sustainable basis.  Sculptures outside will last approximately 2 years however given a bit of shelter (north facing wall or under a lean-to) will last much longer.