Workshops
Workshops 2017
a) Saturday 17th June 10-4 – willow frame baskets – book direct with gallery   www.acearts.co.uk
ACEarts gallery, Market Place, Somerton TA11 7NB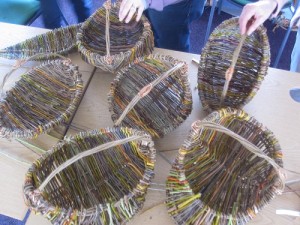 b)  Tuesday 11th July – willow birds 9am-1pm
Strode summer school – book directly with the college. Course & Booking tab is on: http://www.strode-college.ac.uk/
c) Wednesday 12th July – willow frame baskets 9am-3pm
Strode summer school -Strode summer school – book directly with the college. Course & Booking tab is on: http://www.strode-college.ac.uk/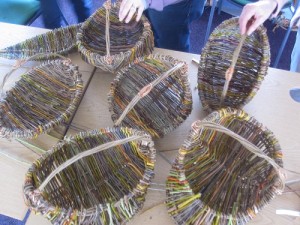 d) Somerset Art Weeks Festival 2017
I will be exhibiting with Fiona Campbell   www.fionacampbellart.co.uk  at two venues Black Swan Arts, Frome BA11 1BB and Clayhill Arts.  We will be running a series of workshops
Saturday 7th October, 1-3pm – Fiona's Family Friendly workshop at Round Tower Gallery, Black Swan Arts, Frome BA11 1BB
Angela's workshop – Round Tower Gallery, Black Swan Arts, Frome BA11 1BB
Wednesday 4th October, 1-3pm
Organic forms using soft natural materials
This is an experimental workshop encouraging you to explore natural materials and forms. We will weave or stitch grasses, sedge leaves, twigs, and willow to create bowl-like, leaf-like or more abstract forms.
This will be a fun and experimental workshop. Cost £30
Advance bookings direct with Angela, maximum 10 places angela@wildgardens.co.uk
Angela's workshop – Clayhill Arts, Charlynch Lane, Bridgwater TA5 2PH
Sunday 8th October, 10am-12.30 and / or 1-3pm
Organic forms using soft natural materials
This is an experimental workshop encouraging you to explore natural materials and forms. We will begin with a short walk exploring the grounds of this wonderful venue to collect a few site-special materials (for example grasses, sedge leaves, twigs, cones…) these will complement the willow and other materials already provided. You will then weave, plait or stitch these into bowl-like, leaf-like or more abstract forms (see below for ideas).
This will be a fun and experimental workshop. Participants choosing to do a half day workshop will make a small piece whereas anyone signing up for the day-long option will be able to make a larger piece as well as perfect their technique.
Full day with either Angela or Fiona OR half a day with each artist £60 to include materials, light lunch & refreshments
Half day with either Angela or Fiona £30, includes materials and refreshments
Maximum 10 places per workshop
Advance bookings through Clayhill Arts "clayhillarts@gmail.com"
If you would like to be put on my mailing list for the next series of workshops then please get in touch.  Alternatively if you arrange a group of 10 friends I can travel to you to run a workshop.