Workshops
If you would like to be put on my mailing list for the next series of workshops then please get in touch.  Alternatively if you arrange a group of 10 friends and a venue I can travel to you to run a workshop.
Wall hangings using natural materials (adults) Saturday 3rd March 10.30am-12.30
£25 each Max 10 places, advance booking direct with ACEarts 01458 273008 Market Place, Somerton, Somerset TA11 7NB.
Participants will be able to choose from a wide range of natural materials exploring different textures and colours.  We will use a simple knot to tie in each element.  If you have some materials at home you would like to use, bring them along.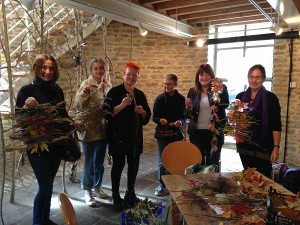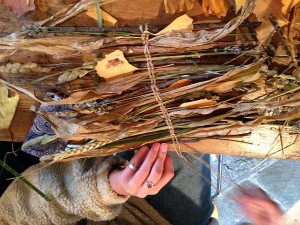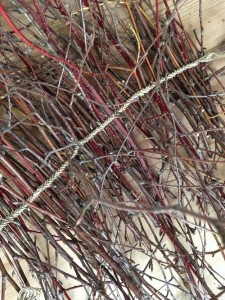 Willow frame basket workshop
Date: Saturday April 28
Time: 10 am – 4 pm
Venue: Select Studio Centre for Science & Arts Lansdown Stroud GL5 1BB
You will learn a simple weaving technique and be shown how to build up the shape of the basket as you weave, there is scope to experiment with creating an organic shaped basket
To Book go to: http://www.sitselect.org/futureevents.html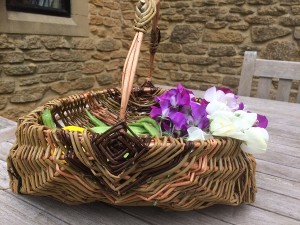 Willow wigwams
Monday 9th July  8.45am for a 9am start.  Finish at  1pm followed by lunch
Suitable for all levels although involves some kneeling (bring a kneeler and wear work clothes).
You will make a willow planter/ wigwam for sweet peas to take home for your garden
Book direct with Strode College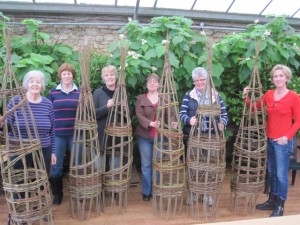 Willow Stag's head
Wednesday 11th July 8.45am for a 9am start.  Finish at  1pm followed by lunch
A fun workshop making a willow stag's head to display on a wall.  Suitable for all levels.
Book direct with Strode College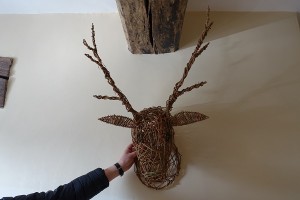 Willow birds
Friday 13th July 8.45am for a 9am start.  Finish at  1pm followed by lunch
You will make a bird of your choice, for example hen, heron or pheasant. Please bring a photograph of what you want to make. Suitable for all levels.
Book direct with Strode College